1.Introduction of dairy cow statue
This is a very lovely dairy cow statue, which is an ornamental multi-functional creative seat. A lovely
cow lady has two small black horns, long eyelashes and beautiful big eyes. With a red tongue, she looks
very sexy and charming. There are black and white pattern on her body, which are as interesting as clouds.
The middle part of the body is recessed, and the smooth curve and simple surface form a very comfortable seat.
This dairy cow statue is very interesting. It is placed in the garden, square, tourist attractions and other
occasions of decoration. The shape of the cartoon makes it charming. It has a mild temperament. You can
rest on its body as much as you like. His limbs carry you, so you can rest assured. Our Arturban Sculpture
Foundry can customize a variety of colorful and interesting Life Size Fiberglass Cows for you to put on
different occasions and bring you a happy and relaxed atmosphere. If you like this lovely and interesting
cartoon seat sculpture, you can contact us for more information.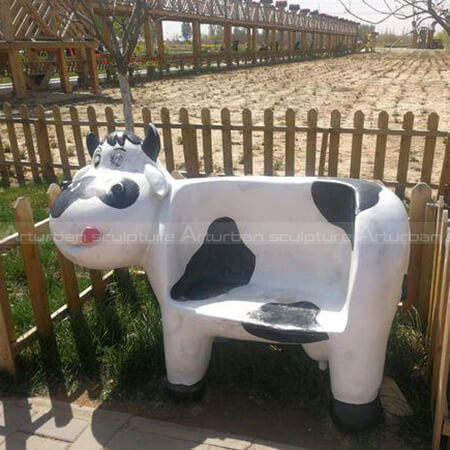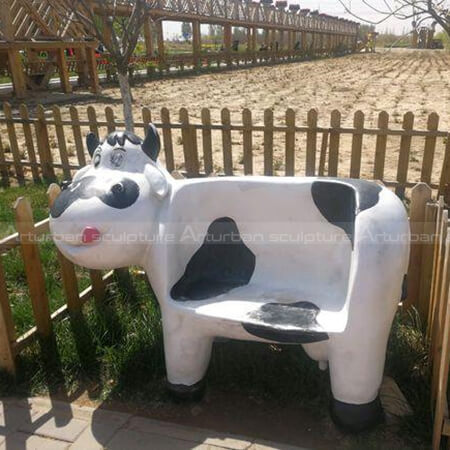 2.Production Process of dairy cow statue
1. Showing the details drawing/ 3D mold for clients confirming.
2. Making clay mold/ foam mold according to drawing/ client's photos/ 3D mold.
3. Making fiberglass/resin sculptures
4. Polishing the surface.
5. Professional painting and take all different views pictures/ videos, show to clients.
6. Packing into wooden cases after clients satisfied with sculptures.
Send us your requirements now, we will reply to your email within 24 hours