1.Introduction of chinese dragon garden statue
This is the  stainless steel chinese dragon garden statue. The body of a dragon is long and winding, elegant and majestic.
It raised its head high and its eyes were bright, as if gazing into the distance. On the upper end of the dragon's front paw
is a smooth ball. The ball is resembling a precious gemstone, shining with dazzling light. The entire sculpture is made of
stainless steel material, making the dragon's body appear smooth and sturdy, emitting a cold and brilliant silver luster.
Its detailed processing is very delicate, and the texture of the dragon scales and claws is lifelike, demonstrating the superb
craftsmanship of the sculptor. The shape of the sculpture is full of dynamism and tension, as if a dragon is circling and
dancing, lifelike.
Large stainless steel Chinese Dragon Sculptures are often placed for decoration in open spaces such as public squares, city
centers, parks, and amusement parks. These places are places where people gather, and sculptures can become iconic landscapes
of cities, attracting tourists and citizens to come and admire.
The advantage of production lies in the use of stainless steel material. Stainless steel has the characteristics of corrosion resistance
and strong weather resistance, which can maintain brightness as new for a long time in outdoor. This not only gives stainless steel
sculptures a beautiful appearance, but also withstands the tests of wind, sun, and various climate changes, making them less susceptible
to damage and fading. Stainless steel material also has good plasticity and can be accurately made according to the design of the
sculptor. Therefore, large stainless steel dragon sculptures can present delicate carvings and smooth lines, showcasing the grandeur
and mystery of the dragon.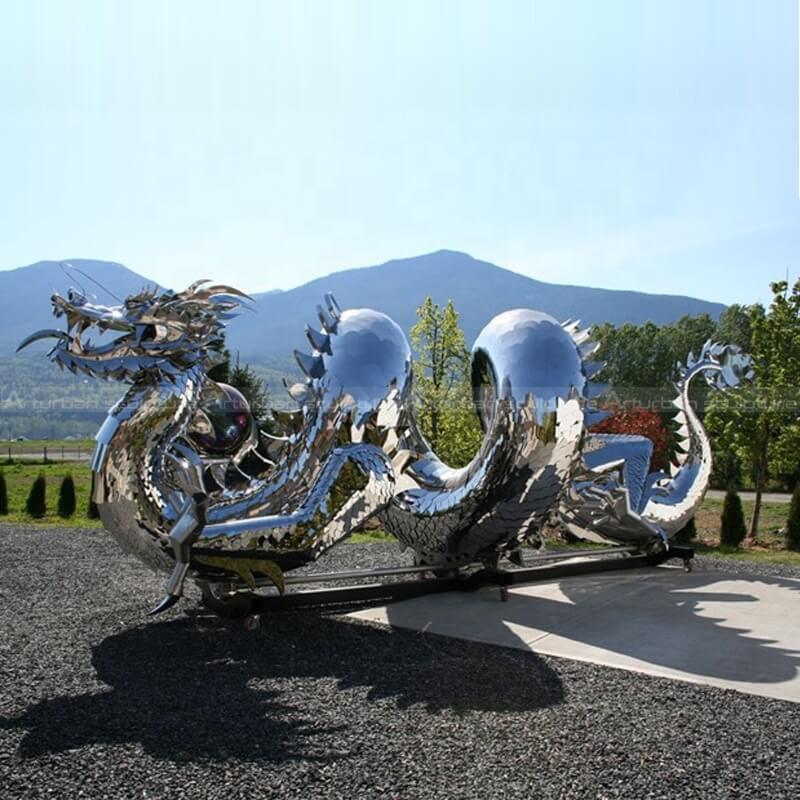 2. Production Process of chinese dragon garden statue
Send us your requirements now, we will reply to your email within 24 hours.