1.Introduction of children playing statue
This is a bronze children playing statue. The children held hands, playing very happily. The boy looked up
slightly, as if admiring the surrounding scenery. The movements of the entire sculpture are very natural,
and the proportions and details of each person's body are handled very carefully. The production process
of bronze sculpture is very complex, requiring multiple processes, such as molding, baking, corrosion, polishing,
and coloring. Each step requires meticulous manual manipulation and the artist's proficiency in materials.
Life Size Child Sculpture have a strong decorative effect. It can be used as an artwork for decoration in courtyards,
gardens, parks, and other places, adding artistic and cultural flavor to the environment. The bronze children's
sculpture has a special texture, exquisite texture, and high gloss, forming a sharp contrast with the surrounding
environment, attracting attention and becoming an important visual focus.
Arturban is a professional art production company with advanced production equipment and technology. It can
customize children's sculptures in different sizes and styles according to customers' needs to meet their personalized
needs. In addition, Arturban has an excellent design and production team with rich experience and creativity, which
can create high-quality bronze children's sculptures, and provide customers with professional pre sales, during sales,
and after-sales services.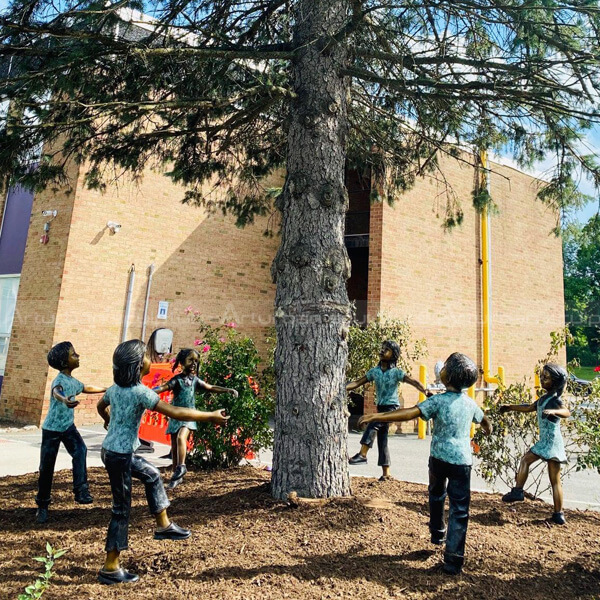 2.Production process of children playing statue
1. Confirming the details drawing/ 3D mold/ Pictures with clients.
2. Making clay mold according to drawing/ photos/ 3D mold.
3. Lost-Wax casting bronze/brass statues.
4. Welding and Chasing.
5. Patina and wax surface, take all different views pictures/ videos, show to clients.
6. Packing into wooden cases after clients satisfied with the works.
Send us your requirements now, we will reply to your email within 24 hours