1.Introduction of capitoline wolf statue
Capitoline wolf statue is a very classic statue of a female wolf feeding twin babies. It is a replica of the famous Capitoline wolf in Rome. The sculpture itself depicts the story of the origin of Rome. Cabitolio wolf is a famous symbol of Rome, Italy, and it is a rather strange art. This is a bronze statue of a wolf, with a bear like sad face and eight prominent nipples. Two angel like children are breastfeeding. It should represent the basic story of Rome, in which a female wolf kept alive by nursing abandoned twins Romulus and Remus until a human family found and adopted them. For many years, it was considered an ancient Etruscan art.
This sculpture is copied by our master sculptors for our customers. We use the wax loss method to vividly carve the images of wolves and babies. And all the details are vividly depicted. We use high-temperature chemical coloring method to color the sculpture, making it thick and natural and full of classical artistic beauty. If you like traditional sculptures or famous sculptures, you can contact us. Our high-quality works can be used for appreciation or collection. You can cotact us to view more capitoline wolf statue for sale.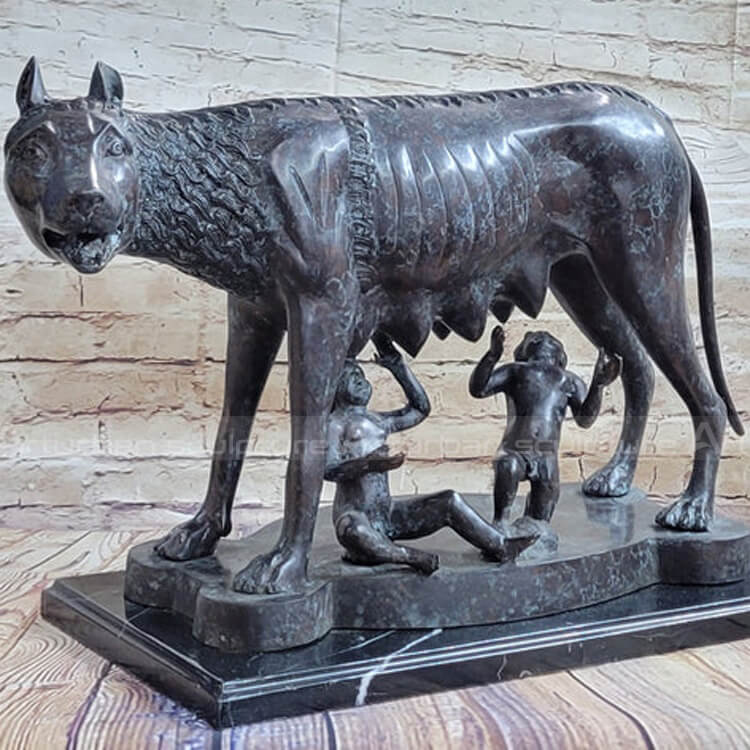 2.Production Process of capitoline wolf statue for sale
1. Confirming the details drawing/ 3D mold/ Pictures with clients.
2. Making clay mold according to drawing/ client's photos/ 3D mold.
3. Lost-Wax casting bronze/brass statues.
4. Welding and Chasing.
5. Patina and wax surfance, take all different views pictures/ videos, show to clients.
6. Packing into wooden cases after clients satisfied with sculptures.
Send us your requirements now, we will reply to your email within 24 hours