1.Introduction of butterfly art sculpture
This butterfly art sculpture is very beautiful and shocking.  Colored butterfly sculpture is a handicraft that integrates aesthetics, durability,
and environmental protection. It made of fiberglass, with a rich and colorful exterior decoration. It has numerous forms and is novel and unique.
The appearance of colorful butterfly sculptures is lifelike, as if real butterflies are dancing in the flowers. Its wings are light and elegant, with
delicate patterns and dazzling colors, shining brightly. The butterfly's body and antennae present a realistic three-dimensional effect, making
people want to touch it.
Butterfly Statue For Garden are suitable for indoor and outdoor decoration in parks, gardens, squares, exhibition halls, and other places, especially
in spring and summer. Coupled with flowers and greenery, they can create a beautiful atmosphere. At the same time, colorful butterfly sculptures
can also be used as decorations for commercial buildings, hotels, office buildings, and other places, sdding the artistic sense of the place. In addition,
it can also be used as a home decoration, placed in the garden or indoors, to add warmth and vitality to the home.
There are many advantages to making fiberglass colored butterfly sculptures. Firstly, they can be made through molds, with a short production cycle,
light weight, and easy transportation and installation; Secondly, fiberglass material itself has good corrosion resistance and weather resistance, which
can maintain color unchanged for a long time outdoors; In addition, fiberglass can be used to create various colors through spraying, coating, and other
methods, adding the decorative and artistic feel. Therefore, the sculpture is suitable for outdoor decoration and artistic display.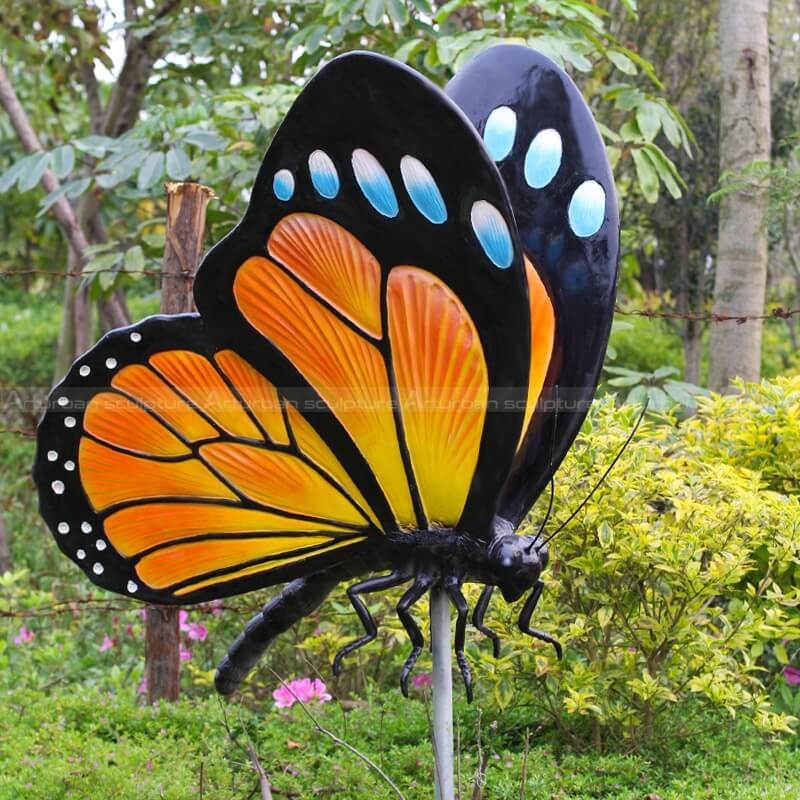 2. Production Process of butterfly art sculpture
Send us your requirements now, we will reply to your email within 24 hours.