1.Introduction of Bronze Nude Man
Bronze Nude Man is famous sculpture in Greece. It is with bronze skin, developed muscles and without head, full of incomplete beauty, gives people unlimited imagination and shows its artistic style. Body art is one of the artistic cultures created by human. Artists appreciate the beauty of human body, but do not pursue sensory stimulation. It is also a tribute to people's wisdom and spirit. They make a lot of male statues showing mental health and body fitness. All these statues laid the foundation for the development of human body art later. Ancient Greek men's statues, from simple and natural to elegant and exquisite, have formed their own unique artistic styles, which are deeply loved by future generations.
This replica of nude man sculpture not only vividly shows the shape of the sculpture, but also shows the artistic beauty and classical beauty of sculpture.Our Arturban sculpture factory has a professional team with rich experience. We are good at combining sculpture form with art to show unique aesthetic feeling and artistic characteristics. When making sculpture, we depict the form structure and appearance. We have unique views on famous sculptures and show them in the quality of works of art. If you are looking for high-quality sculpture works, you can contact us for more information about sculpture.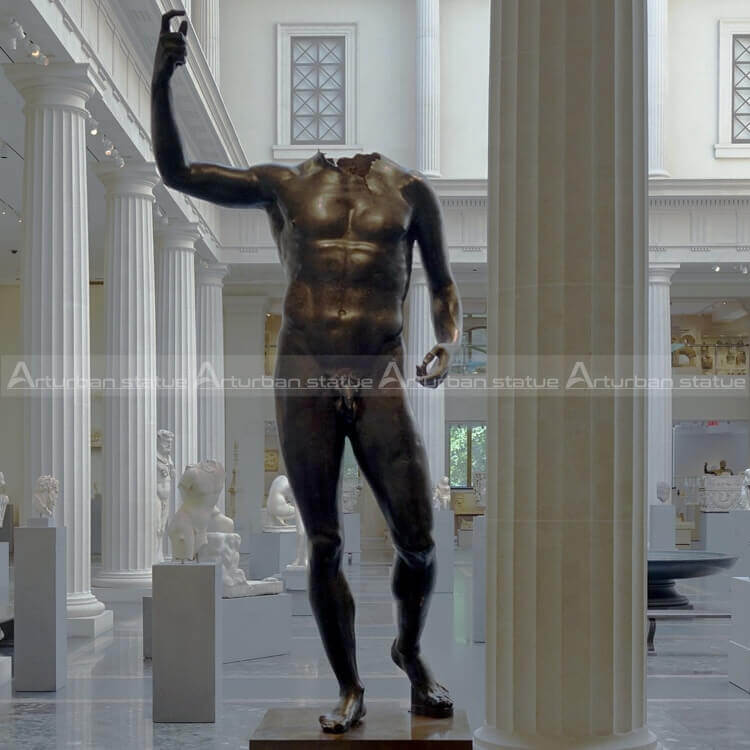 2.Project cases of nude statue
3.Production Proccess of Bronze Nude Man
1. Confirming the details drawing/ 3D mold/ Pictures with clients.
2. Making clay mold according to drawing/ client's photos/ 3D mold.
3. Lost-Wax casting bronze/brass statues.
4. Welding and Chasing.
5. Patina and wax surfance, take all different views pictures/ videos, show to clients.
6. Packing into wooden cases after clients are satisfied with sculptures.
Send us your requirements now, we will reply to your email within 24 hours