1.Introduction of bronze gorilla statue
Bronze gorilla statue is life size. Gorillas are primates, second only to humans and chimpanzees. Its body is strong, fierce and reckless. It is generally covered with long black hair, but its face, ears, hands and feet are hairless. Its facial skin is wrinkled, its eyes are deeply sunken and with wide the distance, and its eye mask is brown. It often moves forward or rest with its front legs propped on the ground. You can clearly see that the muscles of its limbs and its strong chest looks with infinite strength. Often in many films, we can also see its powerful image, which is popular among people.
This sculpture vividly shows the image and posture of the gorilla. In the process of painting, we adopted the chemical coloring method. The bronze color added a powerful and bold image to the sculpture. The color is thick and natural, which can maintain in outdoors for a long time. We have rich experience in animal sculpture. Each sculpture is of art like quality, which can just add an atmosphere to the surrounding environment on any occasion. We support the customization of sculptures. You can contact us at any time to learn more details.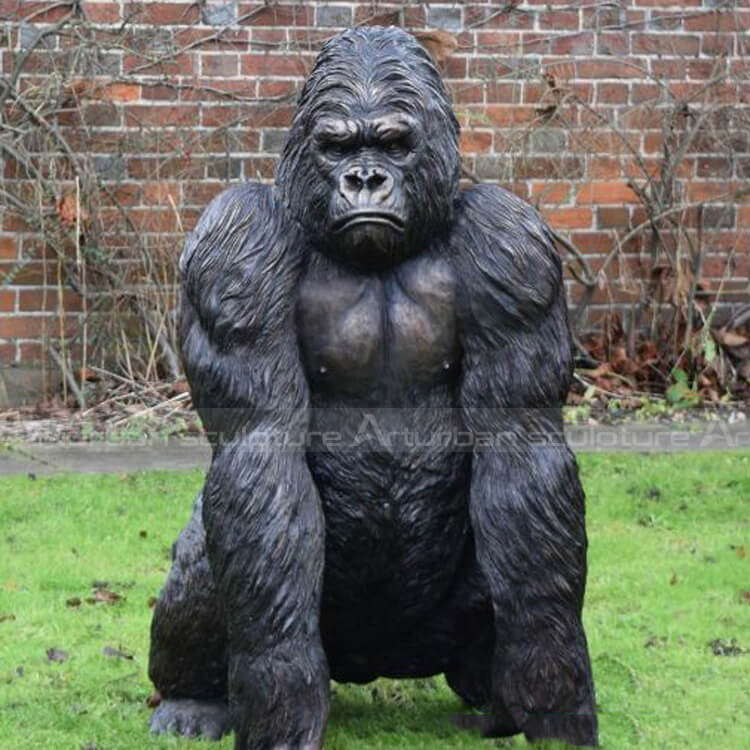 2.Production Process of bronze gorilla statue
1. Confirming the details drawing/ 3D mold/ Pictures with clients.
2. Making clay mold according to drawing/ client's photos/ 3D mold.
3. Lost-Wax casting bronze/brass statues.
4. Welding and Chasing.
5. Patina and wax surfance, take all different views pictures/ videos, show to clients.
6. Packing into wooden cases after clients are satisfied with sculptures.
Send us your requirements now, we will reply to your email within 24 hours