1.Introduction of abstract garden sculpture
The abstract garden sculpture is with very artistic characteristics. The simple and smooth lines are refreshing, bringing fun to our boring life and a trace of vitality to the surrounding environment. Garden sculptures mainly act on people's hearts through visual induction. It subordinate to buildings and the surrounding environment and play a decorative role. This abstract garden art sculpture not only has a unique shape and beautiful details, but also brings us fashionable beauty.
We show the aesthetic feeling of curve sculpture in an abstract art form. The abstract curve is made of stainless steel through manual polishing process many times, so as to achieve a smooth, fashion and bright mirror like surface. Abstract stainless steel sculptures can not only play a decorative role, but also integrate with the surrounding environment to enhance the overall image. The unique mirror effect of stainless steel can be used as a mirror, you can see your own figure in the sculpture, and it can attract more people to visit. We also have a variety of garden sculptures, which not only have unique shapes, but also bring you different artistic styles. You can contact us for more details.
2. Production Proccess of abstract garden sculpture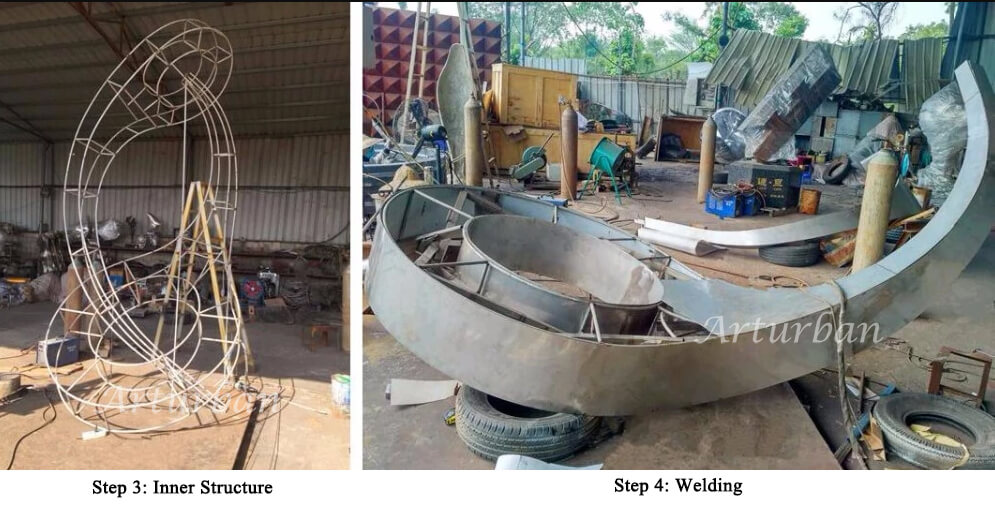 Send us your requirements now, we will reply to your email within 24 hours